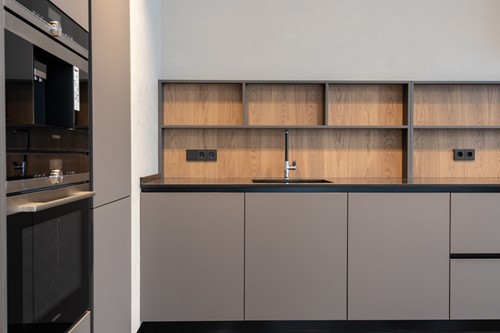 Photo by Max Vakhtbovych from Pexels

No matter the type of home you move into, there's a good chance you're going to need storage. Unfortunately, a lot of storage solutions seem to take up more space than they save. Don't despair. There's hope.
Here are few compact and efficient storage ideas for your home.
1. Make the Most of Stairway Landings
In some homes, the landing between sets of stairs is the perfect spot for a set of built-in shelves or even a small reading nook, complete with a cushioned seat and low bookshelves underneath.
2. Use Small Nooks to Create Compact Workstations
From dormers to unsuspecting corners in the kitchen or living space, today's homes often feature spaces that haven't been used to their fullest. Build in a slender desk along with a small drawer or cabinet for necessities, and you'll have a petite but powerful workstation—perfect for homework, bill-paying or keeping up with correspondence.
3. Use the Top of Your Space
Think about adding open shelves above the cabinets or windows in the kitchen, wrapping a shallow shelf near the top of a room, or installing cabinets or recessed wall shelves in bathroom spaces.
4. Choose Furniture That Expands Your Storage Options
This doesn't factor in to your home's architecture per se, but it's a powerful tip that many overlook. Opting for storage-friendly furniture can swing the storage pendulum in your favor, and with many pieces, you wouldn't even realize that the furniture is concealing your things.
Headboards with built-in storage add versatility to bedrooms

Platform beds with under-bed storage look sleek and capitalize on under-bed space

Bookshelves that reach all the way to the ceiling fit more books and other treasures

Built-in buffets in the dining room can be sunk into the walls to add seamless storage without cutting into the dining room's floor space
5. Incorporate Banquette Seating in the Kitchen
If you have a dine-in kitchen, a custom built-in bench adds easy seating that feels like a natural part of the house. It also serves up a healthy dose of storage space for linens, seasonal kitchen decor or infrequently used kitchen appliances.
6. Install a Kitchen Island That's Chock-Full of Storage
Whether you have space for a large island or a smaller one, a well-designed island can significantly increase your cabinet/kitchen storage space. Opt to add shelves on one side for cookbooks, and incorporate drawers or spacious cabinets for pans, kitchen gadgets or other items you need to have easily accessible.
7. Build Wall Seating Into Your Space
Have long, expansive stretches of walls? Adding a thoughtful built-in seat or bench here and there can be a smart eye-catching design decision. You'll cut down on the required furniture in your space and, depending on the design of the built-in seating, add a bit of storage as well. You could choose to create a reading nook where no nook exists, the perfect spot to enjoy a morning cuppa or a place for guests to take a load off while conversing and enjoying your hospitality.
Storage can certainly make life easier when you're trying to find a home for all of your belongings. A little forethought and inspiration will go a long way when you're creating your dream home.